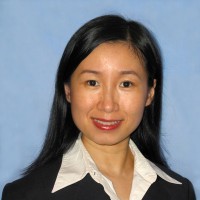 Dr. Yiqun Hui is double board-certified in Internal Medicine and Allergy / Clinical Immunology.
Dr. Yiqun Hui graduated summa cum laude from the elite Chinese medical school – Peking Union Medical College. She then pursued a PhD degree in Pharmacology at the University of Pennsylvania, and continued research in translational medicine for a few years.
Later she moved to long island New York and finished internal medicine residency training in the Hofstra North Shore – Long Island Jewish School of Medicine Program.
Dr. Hui has a long standing interest in allergy and immunology. Born in a family with many members suffering from asthma, she is strongly motivated to help people with allergic diseases and asthma. She did cutting–edge research in allergy mediators, cysteinyl leukotrienes and prostaglandins, at UPenn. After residency, she did fellowship in Allergy and Clinical Immunology at The Mount Sinai Hospital, trained by world-renowned scientists / clinicians, including Dr. Cunningham-Rundles, Dr. Sampson, Dr. Sicherer, and many other highly accomplished allergists / immunologists. At the same time, she also participated in the studies using Chinese herbal medicines to treat allergic disorders.
Dr. Hui currently is practicing Allergy, Asthma & Clinical Immunology in Bayside, Queen. Her devotion to patient care is highly appreciated by her patients. Dr. Hui believes that effective care comes from effective communication and patient education, which is achieved through the partnership between the physician and the patient.She is affiliated with The Mount Sinai Hospital, Mount Sinai Queens and Long Island Jewish Medical center. Dr. Hui is actively involved in teaching. She is a clinical instructor at The Mount Sinai Hospital, precepting allergy fellows in the clinic.
Dr. Hui speaks English and Chinese (Mandarin).